Chicago and Minnesota Sections of IFT have joined together to launch the Midwest IFT Virtual Symposium and Expo on November 10, 2020 replacing the CSIFT November 4, 2020 in-person event and bringing exhibitors from all parts of North America to your desktop.
While the Symposium & Expo is LIVE on November 10, networking, previewing the Exhibit Hall, and planning your schedule opens October 29. Set up meetings, schedule product demos, post on the discussion boards, and more.
AND – the platform is available to you for 6 MONTHS! This means you can access the symposium recordings, connect with exhibitors and view product demonstrations on YOUR SCHEDULE!
Enter Virtual Expo
NOTE: You must have already registered to login.
Register to Attend - It's FREE!
Attendee Training Video
Set Up Your Profile - Begin Networking!
Registered attendees receive access to the Virtual Expo & Symposium Platform on October 29, 2020 or within 24 hours of registering beginning October 30. Watch for an email from "noreply@pathable.com".
Once you have access, create your Profile!
Upload your picture
Add ribbons
Add credentials
Add a little bit about yourself
Participate in the Networking Rooms. There are 3 ways to connect:
Networking – a general forum for attendee connecting
Symposium Discussions – Connect with the speakers
Top Trends & Topics – Post questions that exhibitors might be able to answer. Searching for a special ingredient or packaging need? Post it here!
Check out who else is attending – Connect with people you missed since March! Check back daily to see who has registered. You can send messages and invite other attendees to meetings – 1:1 or small groups!
Click on attendees in menu
Search for specific attendees by name, company, job title, etc.
Click on the … next to name and view their profile, send a message, or schedule a meeting.
When you send a meeting request or a message, that person receives an email. If someone requests a meeting with you or sends you a message, you will see it on your agenda and in your email.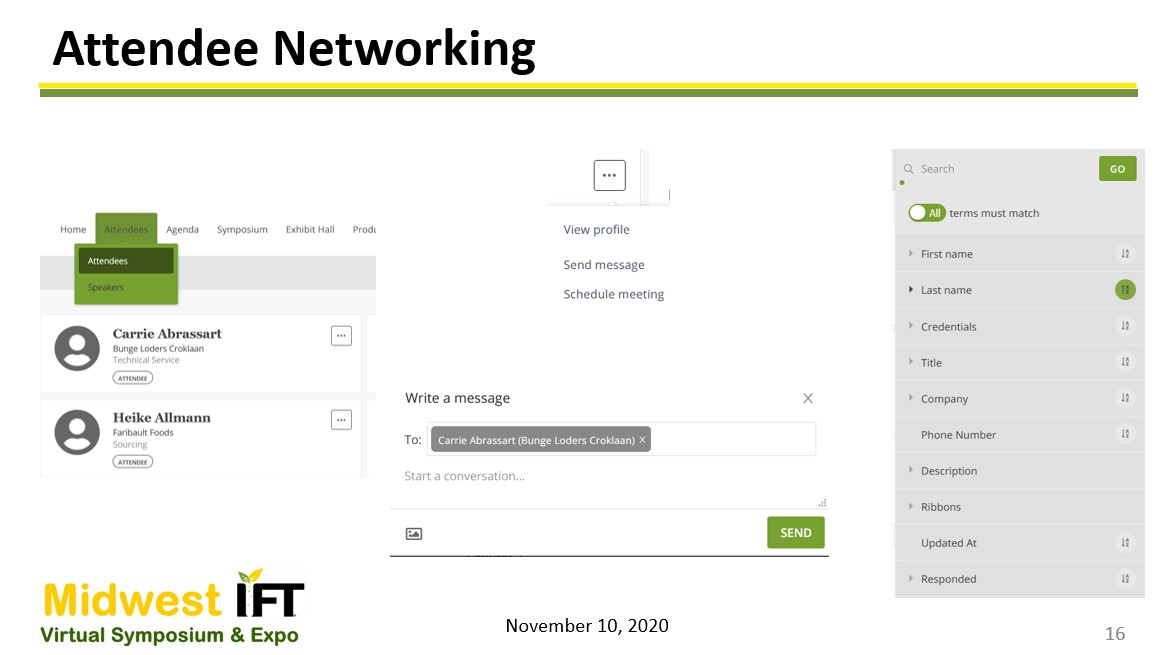 Meet the Exhibitors: From North America to Your Desktop
Check out the Exhibit Hall to identify exhibitors you'd like to visit and to learn more about their products and services. You can search for them by products and services or by their alpha listing.
You can visit exhibitors anytime beginning October 29. When you visit them either before or during the Expo, click on the Request Info button on their booth. They can then contact you to set up a meeting or send you any information you've requested. You can also request a 1:1 meeting with them.
While exhibitors will be updating their booths through the day of the Expo, expect to find most booths set up by Nov. 3.
Sign Up to Attend Product Demonstrations
Available Live and On Demand
Throughout the day, attend live product demonstrations with question and answer periods. If you miss one, you can watch it On Demand! Product Demonstration Schedule available October 29.
Important Dates
October 29: Attendees Receive Access to Virtual Symposium & Expo
November 10: 8:30 AM–4:30 PM – Live event
November 11-13: Virtual Platform remains open to schedule additional 1:1 meetings.
Expo & Symposium Remains Open through April 30, 2021
November 10 Schedule
The Mission of the Minnesota and Chicago Sections of IFT is to support a vibrant and active Midwest food science and technology community.
Suppliers' Expo events are a key driver of scholarship and endowment contributions for students and academic programs. Please help us support our students!
We appreciate your commitment and dedication to the Mission of IFT.