Build Your Booth
Exhibitor Move-In-Day
We are also pleased to announce that we were able to add an "Exhibitor Move-In Day" on Monday, November 9 where exhibitors can login and take a trial run of the platform and all its functionality. Practice using the exhibitor chat and zoom room before the event goes live on Tuesday, November 10.
Enter Virtual Expo
NOTE: You must have already registered to login.
Product Showcase Practice Recording
Two Expo Audiences for Half the Price!
As an Exhibitor, you will have your own virtual booth space within the GTR virtual platform where you can share details about your organization and capture leads. As in the past, exhibiting companies will be listed by product/service by searchable product categories in addition to the pdf Exhibitor Guide.
In addition, the following benefits are part of the virtual exhibitor experience:
Access to leads. Attendees can share their information with you via a virtual business card when visiting your 'booth'. You can invite attendees to visit you in the networking platform. Each exhibitor will receive the complete attendee list after the event.
Chat content access. The text content of any attendee who you 'chat' with in your 'booth' is saved and can be downloaded after the event so you know exactly what was said and to whom for follow up.
Schedule appointments. Review the online attendee list and invite attendees to schedule a private appointment during the event and for up to 12 months after the event.
Showcase your company. As a sponsor, you will be featured on the exhibitor listing page. Exhibitors can "reserve" rooms to share a presentation, conduct a demonstration, or give a virtual tour. Limited space available. (View Sponsorships)
Exhibitor hours are 8:30 AM to 4:30 PM with 4 hours dedicated to visiting exhibitors.
Exhibitor cost is $350 and includes unlimited booth personnel.
Virtual Booth Features
Build Your Booth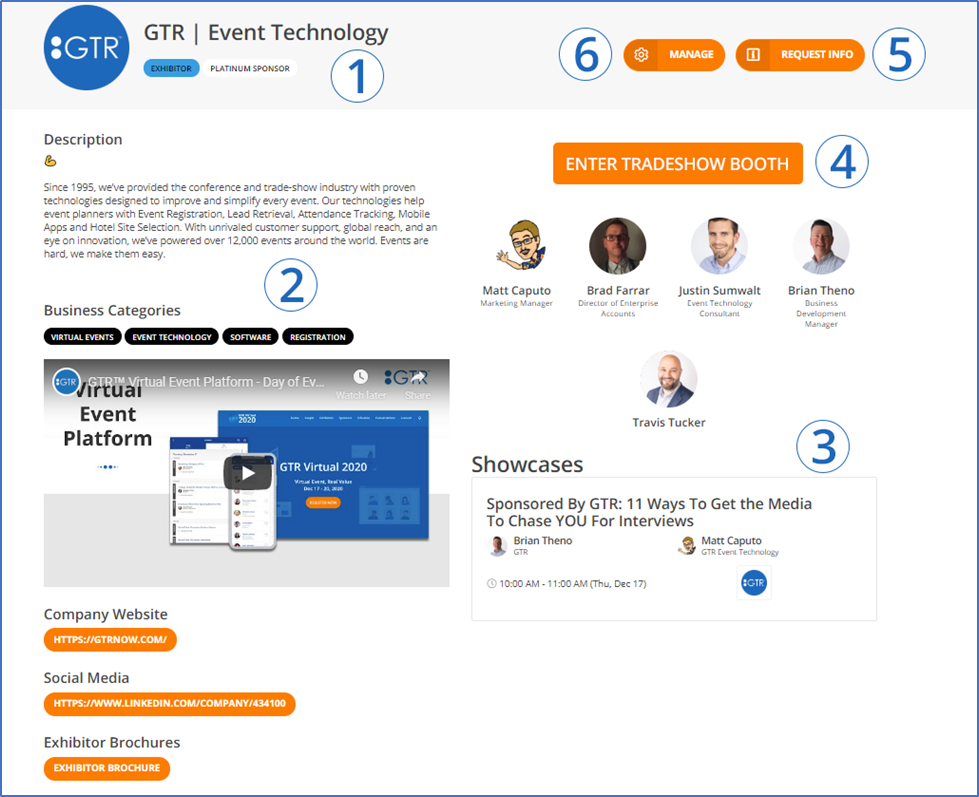 1 Organization Heading
The first thing a prospective customer will see when they visit your booth. This includes:
[/span12] [/row]
Exhibitor Type
Sponsor Level
2 Profile
Your profile can contain a limitless amount of information that is available to share with anyone who stops by your booth. Here are just a few examples:
Description of your organization
Tags and/or keywords the event host has provided
Add a video
Upload brochures, documents, and sales collateral
Add social links
And other fields your event organizer has allowed
3 Showcased Sessions
If you are showcasing or sponsoring any sessions during the event, they will be listed here on your booth page. These will show:
Session name with a link directly to the session
Time and date of session
Speaker name(s) and headshot(s)
Logo of your organization that will also be showcased in main event agenda
4 Live Interaction with Staff
During "exhibiting hours" your staff can broadcast from their office site, warehouse, home, studio or wherever they may be at the time. This is a great opportunity to:
Get face-to-face with your prospects and existing customers
Present your offering to anyone who enters your virtual booth space
Have the opportunity to move into a 1:1 meeting and close the deal
5 Request More Information
Anyone who requests information will come into your lead portal. From here you will be able to view, download, and import directly into your CRM:
Details of their request
Time and date of request
First Name
Last Name
Company
Title
Email Address
Phone Number (if available)
6 Manage Your Profile
This is only available to you and your organization's staff. From here you can fully customize your page and manage other features such as:
Assign or remove booth staff
Create and manage polls
Add additional downloadable files
View and download leads
View and download booth visits
About Visits
You can see everyone who has visited your page. You will see the attendees first and last name, picture, the number of visits they made to your page, and also the date and time of all their visits.
At any time, you can message visitors directly through the platform and
set up a time to speak to them "face to face"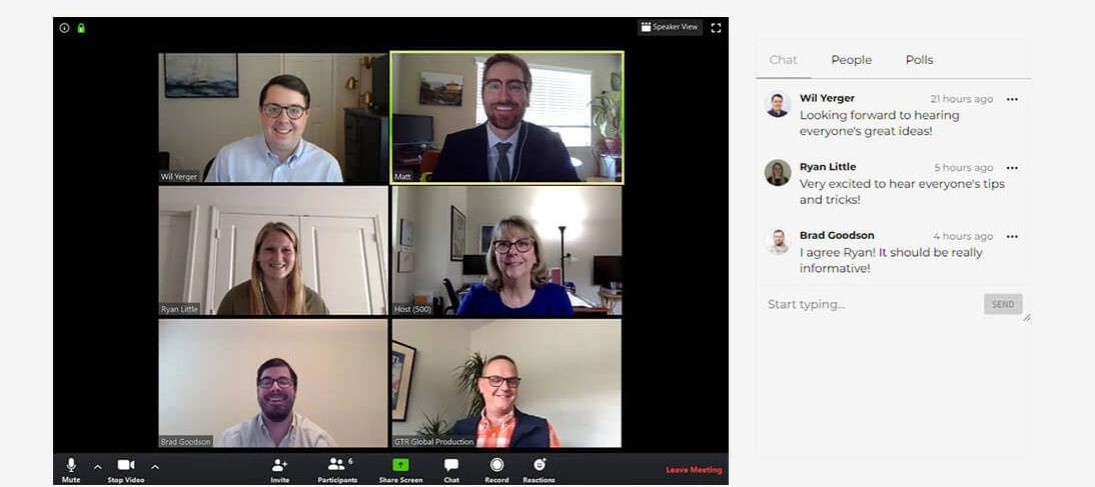 Schedule: