Expo Date: October 11, 2023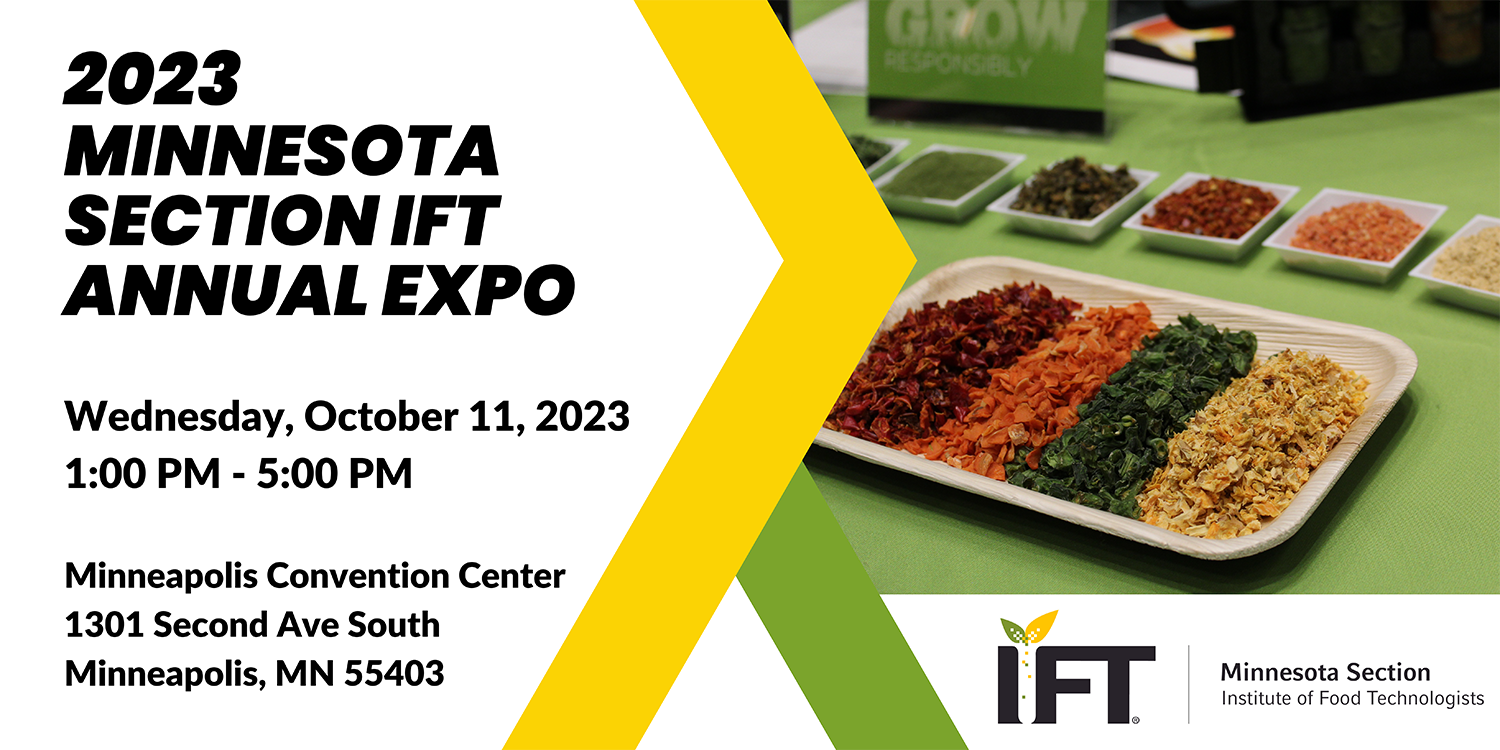 Minnesota Section IFT Annual Suppliers' Expo - Exhibitor Information
We are excited to be back in person to connect exhibitors with local buyers and local buyers with the latest products and services offered by food industry suppliers.
Badge Registration Booth Registration Sponsor Information Know Before You Go Convention Center Information Pay Now
Wednesday, October 11, 2023
Minneapolis Convention Center
1301 Second Ave South
Minneapolis, MN 55403


Schedule
10:30 AM - 12:30 PM: Exhibitor Set Up
1:00 - 5:00 PM: Exhibit Hall Open
RETURNING in 2023! Lead Retrieval System - $150.00
Purchase Lead Retrieval
Track your leads! Using your smart phone, download the lead retrieval app and scan the badges of the attendees you talk to at the show! Add comments to your leads and after the show download your leads in an excel spreadsheet.
Table-Top Display Rules
Permitted
Open Flames / Sterno is allowed but requires a special permit from the City of Minneapolis. The exhibitor is responsible for the documentation and fees. Use this link to fill out the required forms.
Educational sales literature
Samples of ingredients, additives or food products
Sales premiums, souvenirs, handouts, etc.
Instruments and/or equipment (if they can be self supporting and set on the table)
Prohibited
Tables cannot be placed in aisles. We must maintain 10' aisles per the fire code (Incorrect Table Placement)
Free standing floor displays
Table-top displays exceeding 5 feet above table
Electrical appliances or displays (you may use sterno heaters with caution)
Solication, interviews, or distribution of literature outside the exhibitors booth
Booth Registration Information
Choose the booth of choice that works for you! The online Buyers' Guide includes each company's name, contact information, and company description.
This is a table-top show; IFT Table Top Rules Apply
Booth size is 6x6 ft with one 2x6 table and one chair
All booths come with a 6 foot table this year.
Booth charge is $425 through 8/31/2023 and $475 beginning September 1, 2023
There are no refunds. No Exceptions!
Booth includes one company sign, table, chair, and listing in the show directory
Additional signs can be purchased for $15 each
Additional chairs can be purchased for $15 each
Electricity (110V) is available for $150. MUST be arranged prior to show
Terms & Conditions Booth Registration Sponsor Information Pay Now