Thursday, March 24, 2022 @ 4:00 PM
GREAT PLAINS SUBSECTION FEBRUARY MEETING IN-PERSON AND VIRTUAL
Register Now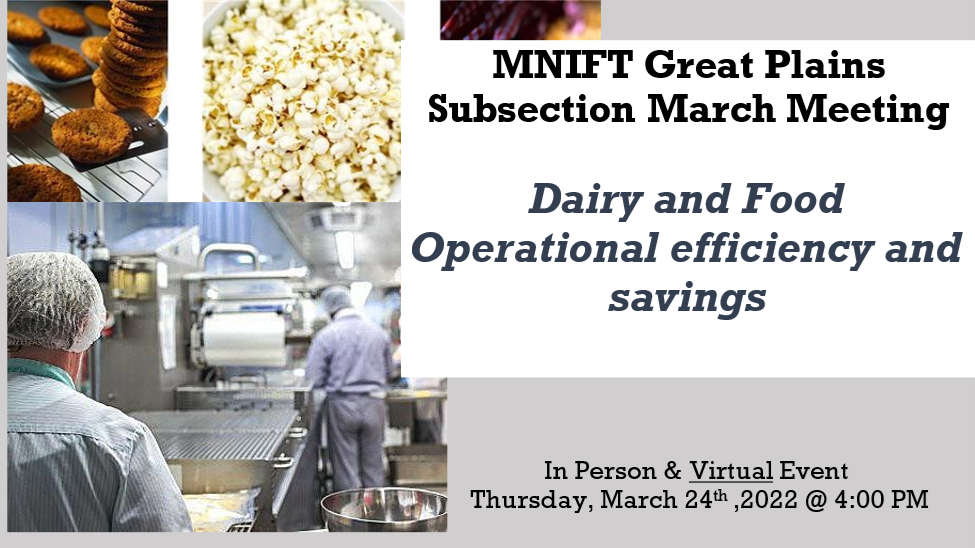 Overview:
"Dairy and Food Operational efficiency and savings"
Dairy and food operations are complex in nature. Many times, it is very difficult to measure operational efficiencies because of dairy and food products' inherent quality. The principles of dairy and food processes are theoretically complicated, and the proposed theories are difficult to apply in practical life.
The students must apply all their knowledge gained during college life to solve these complex practical problems of the industry. The efficiency of the operation could be measured using certain parameters, but it is not always possible to measure the parameters required for the data analysis. Dairy and food scientists must come up with an ingenious solution to solve ever-changing products. This operational efficiency has a direct relationship to savings and is indirectly related to sustainability and profit.
If proper measurement techniques or problem-solving tools are used huge savings can be achieved without compromising the quality of the product. This talk emphasizes the relationship between operational efficiency and savings and how students can apply scientific principles and the knowledge gained along with various problem-solving techniques to reduce losses and improve profits.
Speaker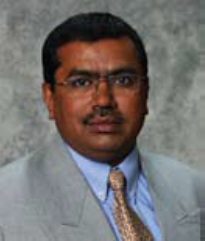 Dr. Prafulla Salunke
The seasoned dairy technocrat and researcher with over 20 years of experience in the dairy industry. Currently working as Assistant Professor of Dairy Manufacturing at Dairy and Food Science Department, South Dakota State University, Brookings, SD. The focus of research is on new dairy-based ingredient development, enzyme (crosslinking, hydrolytic and modifying), cheese, new process, and product development.
Currently advising 3 Doctoral, 2 Masters, and 1 undergraduate student. Along with research, he is teaching 3 courses of Dairy. He is also involved in Institute for Dairy Ingredient Processing (IDIP), SDSU, Brookings, SD. An enterprising leader with excellent research and development, productive, analytical, problem-solving, and man-management skills. Have academic credentials and am highly trained over the years in dairy operations, research, and management areas.
Worked in almost all the areas of dairy unit operations and R&D. Have developed many new products and new processes over the years. He has peer-reviewed articles for various journals and has published many articles. He is an advisor and Executive Secretary to the North Central Cheese Industry Association. He is involved with the activities of ADSA and IFT.
Education
Ph. D. (Biological Sciences in Dairy Manufacturing), South Dakota State University, Brookings, USA.
M. S. (Dairy Technology), Gujarat Agricultural University, Anand, India
B. S. ((Dairy Technology), Gujarat Agricultural University, Anand, India
Education Training
Preventive controls qualified individual (PCQI) certificate of training (2018) awarded by FSPCA (Food Safety Preventive Control Alliance) Preventive Controls for Human Food.
The General Management Programme for the Managing Directors of GCMMF Ltd held at the Indian Institute of Management, Bangalore in September (2006) and the General Management Program conducted by Institute of Rural Management, Anand, Gujarat state, India for the management in the rural sector (2003).
Dairy Technology- Milk powder at Dalum Technical College (The Dairy Training Centre of Denmark), Odense, Denmark, and at NIRO A/s, Copenhagen, Denmark (1999).
Certified lead auditor-Food Safety Management System – ISO 22000:2005 (ISO 19011) conducted by Confederation of Indian Industries (CII) and SAI-Global at Mumbai (2006).
Reservations
On-line credit card payment is required. Registration will stay open until the event's end, March 24th at 5:00 PM. If you have additional questions, please email Muthu Muthukumarappan at kas.muthukum@sdstate.edu.
NOTE: Everyone needs to register to receive the Zoom meeting login information.
Location
SRPA 236 at SDSU
Brookings, SD 57007
Schedule
Thursday, March 24, 2022
4:00 – 4:10 PM Networking
4:10 – 4:45 PM Presentation by Dr. Prafulla Salunke
4:45 – 4:55 PM Discussion / Q&A
4:55 – 5:00 PM Closing Remarks
Cost:
Members: $5
Students: FREE
Additionally, the MNIFT Great Plains Subsection will be having a student poster competition the same day of this event!
***The revenues for this meeting will go towards MNIFT Scholarships and future hybrid event expenses

Register Now