Tuesday, February 7, 2023 @ 5:00 PM
Fundraising Event and Silent Auction 2023
Register Now
Silent Auction Information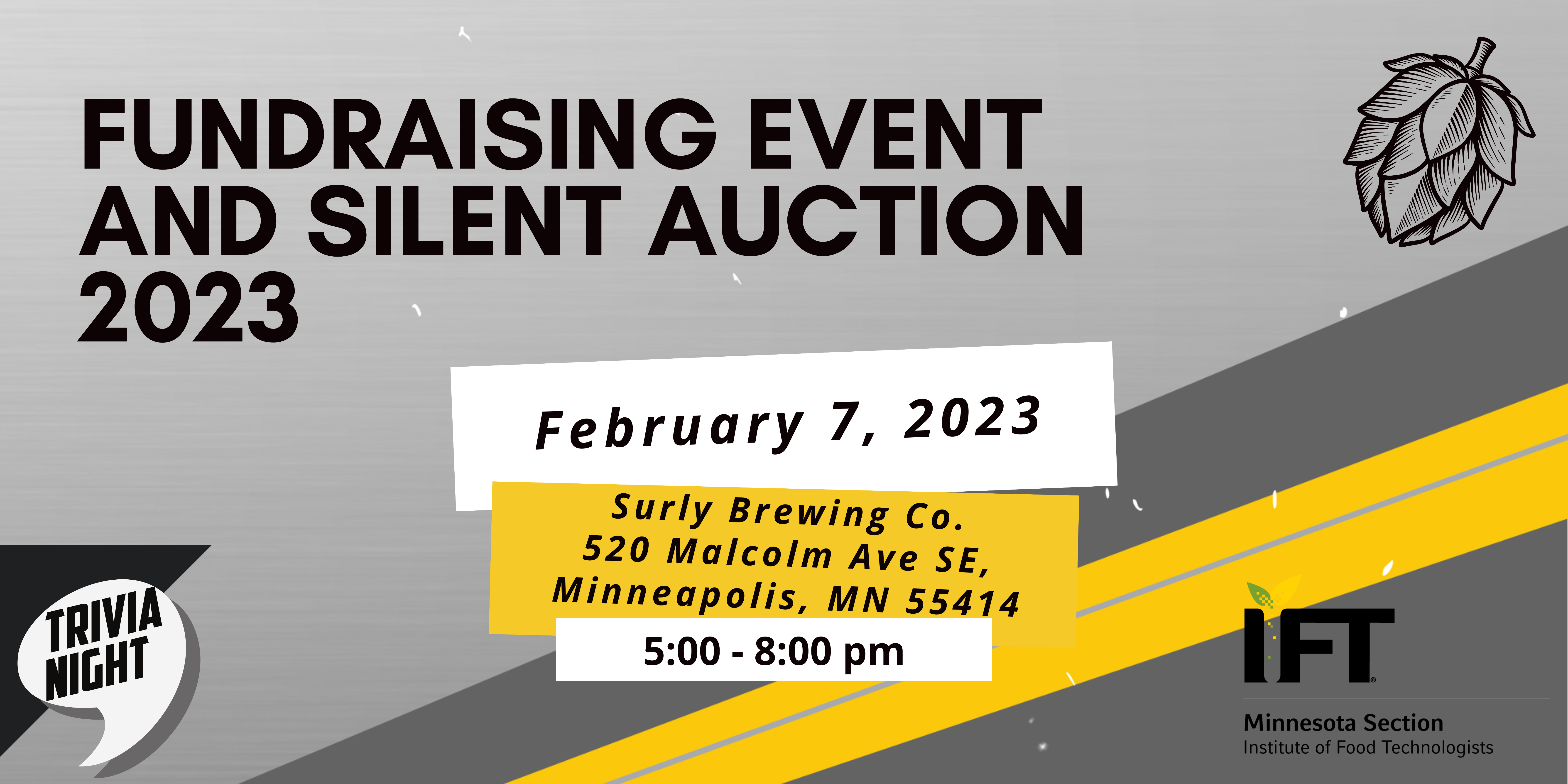 Welcome to the MNIFT 2023 Fundraising Event and Silent Auction! We are proud to announce that this year's silent auction will begin on January 25 and will culminate on February 7 at our event held at Surly Brewing Co.
The event will begin at 5:00pm and will feature trivia games, a brewery tour, buffet-style dinner, drinks, and networking! Guests will have the opportunity to snatch up unique items and gifts and get into a friendly competition with your colleagues - while supporting food science student scholarships!
With the generous support from individuals and companies such as yours, the annual MNIFT Silent auction have raised over $100,000 since its inception in 2006.
All proceeds from the silent auction will be split 50/50 between the Feeding Tomorrow Scholarship of IFT Foundation (which supports national scholarships) and our MNIFT Scholarship fund (which supports local scholarships).
We are committed to the mission of inspiring the imagination of next generation food scientists. To fulfill our commitment, we collaborate with students and educators to:
Raise awareness about how Food Science is vital to everyday life
Highlight the rewarding careers available in our industry, and
Encourage them to learn more about their academic opportunities in Food Science
The future of our industry depends on the next generation of food scientists and technologists.
Location
Surly Brewing
520 Malcolm Ave SE
Minneapolis, MN 55414
Reservations
Register online at www.mnift.org. Registration will stay open until Tuesday, February 7th, at 10:00 AM. If you have questions please contact Hasmukh Patel or Leslie Kowalczyk.
Schedule
Tuesday, February 7, 2023
4:00 Board of Directors Meeting
5:00 Guest Arrival, Food Service Opens in Scheid Hall
5:30 Silent Auction Opens/ Announcements
6:00 Trivia Begins
7:00 Trivia Concludes/ Through The Glass Tour Presentation of Brewery
7:30 Presentation Concludes/Silent Auction Concludes/Last Call
8:00 Event Concludes
Cost: $30
Registration cost will include two complimentary drink tickets and a buffet-style dinner.
Reservations must be made by February 7th at 10:00 AM
Register Now
Silent Auction Information