Tuesday, 6 June 2023 12:00 pm to 5:00 pm CDT
MNIFT Strategic Planning Meeting
Register Now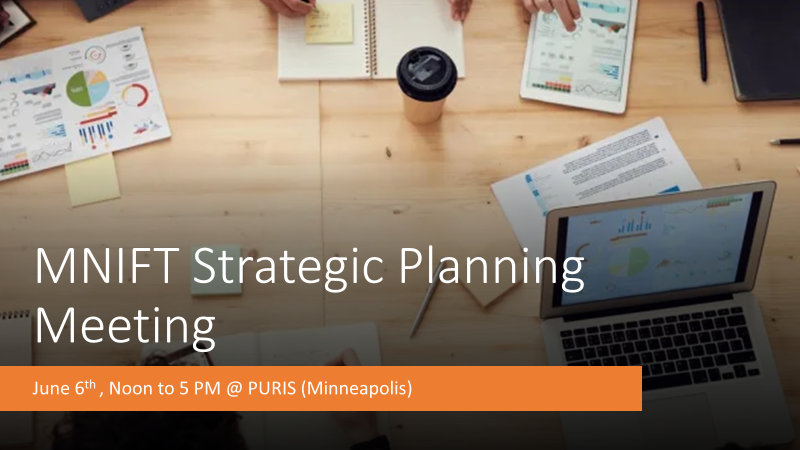 Are you interested in learning more about MNIFT and taking our organization to the next level? Join us from noon to 5 PM for the annual MNIFT strategic planning meeting for an engaging and insightful afternoon.
What is MNIFT?
The Minnesota Institute of Food Technologists (MNIFT) is a professional organization for individuals working in or interested in the food science and technology field in Minnesota. MNIFT is a local section of the Institute of Food Technologists (IFT), a global organization that promotes the advancement of the food science and technology profession. MNIFT provides a platform in Minnesota and surrounding states for food professionals to connect, share knowledge, and promote education and professional development opportunities. We host events such as technical sessions, workshops, and conferences, as well as networking and social events to support the local food community. MNIFT also offers scholarships and awards to support the education and development of future food science professionals.
Location
PURIS
811 Glenwood Ave
Suite 110
Minneapolis, MN 55405
Social Hour at Utepils Brewing
5:00-6:30/7:00 PM
225 Thomas Ave N #700
Minneapolis, MN 55405
Reservations
Register here by June 5th.
This event is free to registered members.
Schedule
Tuesday, June 6, 2023
Noon – 1:00 PM Lunch/Networking/Orientation
1:00 PM Board Meeting Begins
2:30 PM Refreshment Break
3:00 PM Reconvene in Breakout Sessions (Strategies for next year) - Groups Rotate every 15 minutes to different breakout sessions
3:45 PM Break Out Ends and Report on Breakout Sessions/Discussion
Adjourn by 5:00 PM
Reservations must be made by June 5th
Register Now