Thursday, April 27, 2023 @ 5:00 PM
MACY AWARD & STUDENT RECOGNITION MEETING - In-Person
Register Now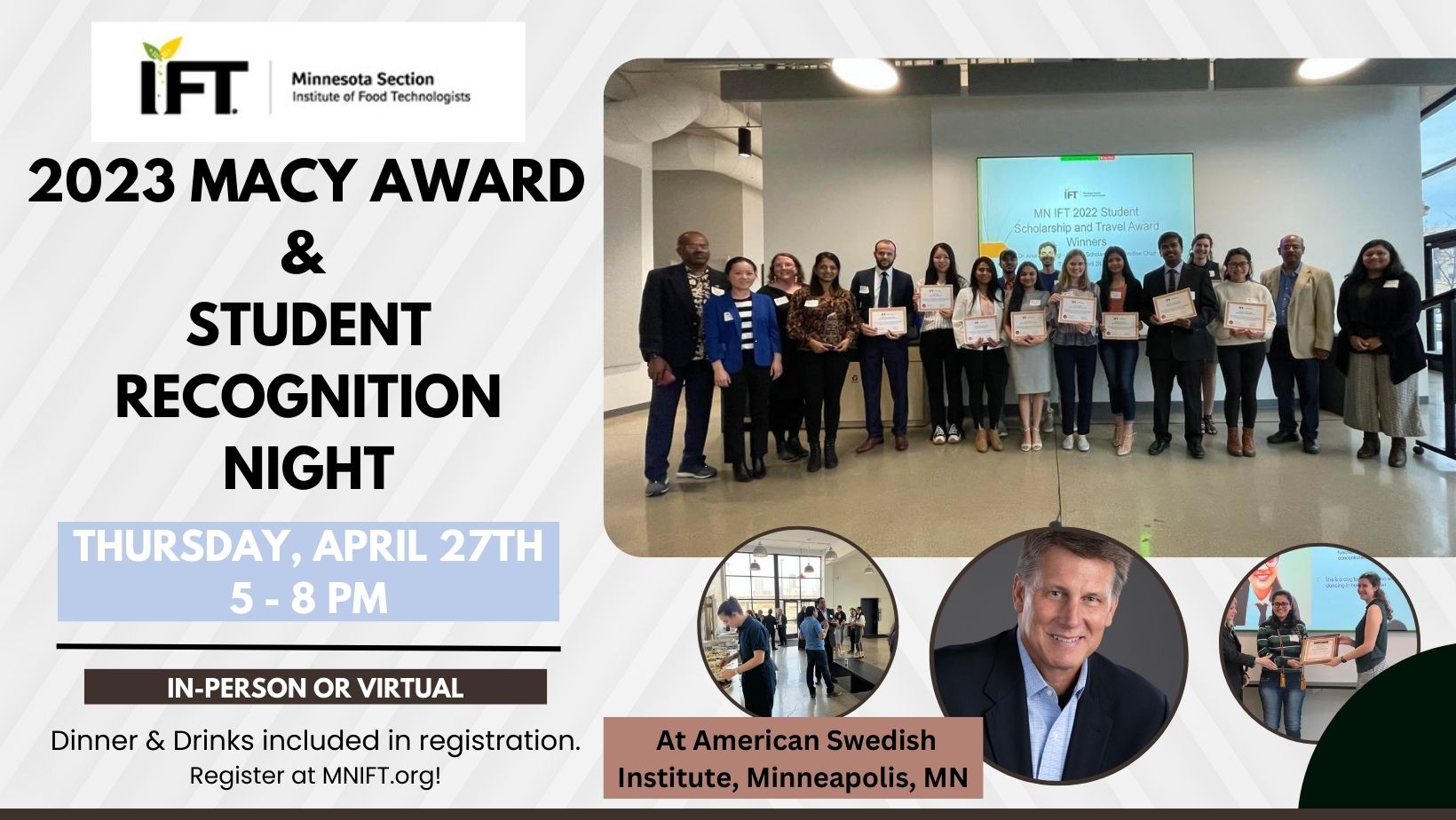 Time to celebrate and recognize their achievements! Come and join us in honoring the 2023 Macy Award Recipient, Steve K. Synder, MN IFT student scholarship winners, MN Academy of Science award winners and Phi Tau Sigma inductees at American Swedish Institute 2600 Park Ave, Minneapolis, MN 55407
2023 Macy Award Recipient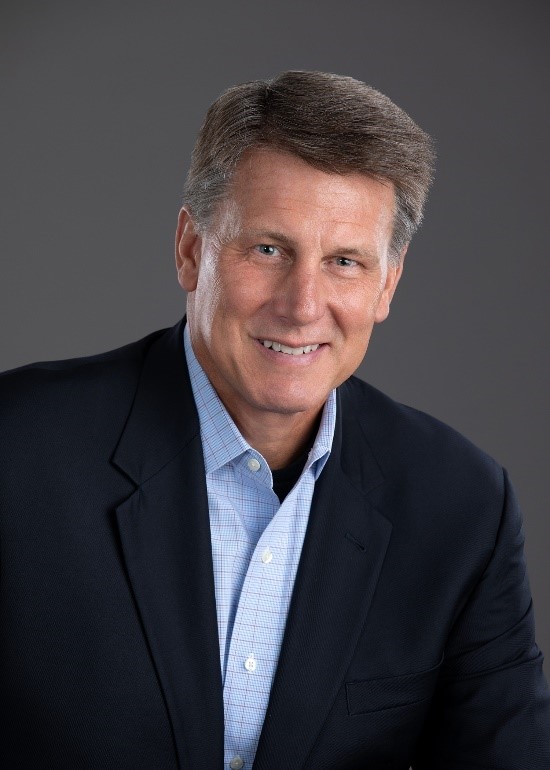 Steve K. Snyder, MBA
CEO of Schuman Cheese
Title: "Growing in Food, Science and Business – Four Decades and Counting"
Experienced, dynamic leader in start-up, middle market and large company settings across food, nutrition, pharma, food safety, biotechnology, agriculture and specialty chemicals. Steve is currently the CEO of Schuman Cheese, a 4th generation specialty cheese maker, importer and processor. He most recently was the President and CEO of private equity owned Whitehall Specialties processed cheese manufacturer, and founder of its newly created NewFields™ plant-based cheese division. He is founder and CEO of Third Meadow Consulting, a corporate growth consultancy and serves on the advisory board for Demand Chain, a Salesforce™ CRM software implementation company in Minneapolis.
He served as President and COO of public food safety and testing company Neogen and of early- stage pharmaceutical company St. Renatus. He held several leadership roles at Cargill where he led the launch of Truvia™ brand natural sweetener (the first natural, zero calorie, high-intensity sweetener) and Corowise™ Naturally Sourced Cholesterol Reducer™ ingredient featured in Coca-Cola's Minute Maid HeartWise™ orange juice and Wyeth's Centrum Cardio™ multivitamin. He also led the innovation for re-purposed oil seed products into sustainable industrial applications in Cargill's Industrial Specialties business.
He was a founding member of management team for Senomyx, a biotech flavor discovery company, co- founded by Nobel laureate Dr. Roger Tsein and National Medal of Science winner and Stanford professor and textbook author Dr. Lubert Stryer. He currently serves on the board of directors for the Boston based ag-biotech company IngredientWerks who is focused on alternative protein production in plants. Previously he also held several leadership positions at Monsanto, including director of commercial development at NutraSweet Kelco where he launched new fermentation derived food ingredients including Omega-3 oils and specialty cellulose food texturizing ingredient.
He has served on several boards of directors, including board chair for Life Science Alley in Minneapolis, MN, the U of MN Food Science & Nutrition Advisory Board and Venture Center Business Advisory Group, the U of St. Thomas Schulze School of Entrepreneurship Advisory Board member and currently serves on the Advisory Board for GenoPalate, genomics based personalized nutrition company.
He holds an MBA from Harvard Business School and a BS in Chemistry from Phillips University.
About Macy Award
The Macy Food Science & Technology Award, "Macy Award," was established in 1981, and is given annually to recognize an outstanding example of food technology transfer or cooperation between scientists or technologists in any of the following settings: academic, government, and private industry. The purpose of the award is to advance the profession and practice of food technology and to honor Dr. Harold Macy, Dean Emeritus of the University of Minnesota and Founding Member of IFT. The award consists of a plaque, $2500 honorarium, and travel expenses.
Location
American Swedish Institute – Larson Hall
2600 Park Avenue
Minneapolis, MN 55407
Reservations
Registration will stay open until Wednesday, April 26th, at 5:00 PM or until the maximum registration (80) is reached. Registration is capped. Please register today if you are interested in attending! If you have additional questions, please email Lindsay Budin at Lindsay.Budin@agropur.com
Registration costs will include dinner and drinks.
NOTE: Virtual registrations will receive the Zoom meeting login information after registration. Note that the virtual option is mainly on Macy Award presentation. Due to limited video streaming capabilities, we do not guarantee video and adequate sound for student award recognition section of the night.
Schedule
Thursday, April 27, 2023
4:00 – 5:00 PM Board of Directors Meeting**
5:00 – 6:00 PM Networking
6:00 – 6:45 PM Dinner
6:45 – 7:25 PM Speaker and Macy Award Recipient – Steve K Snyder
7:25 – 8:00 PM Student Scholarship & MN Science Fair Winner Presentations & PTS inductees
8:00 – 8:05 PM Closing Remarks
** Zoom link and meeting placeholder will be sent with agenda by MNIFT President for BOD members.
Cost:
| Type | Until End of Day April 13th | Starting April 14th |
| --- | --- | --- |
| In-Person Member | $35 | $40 |
| In-Person Non-Member | $40 | $45 |
| In-Person Student/Emeritus** | Free | Free |
| Virtual Member | $5 | $5 |
| Virtual Non-Member | $10 | $10 |
| Virtual Student | Free | Free |
**High School and Middle School Student Science Fair award winners will also be able to bring up to two family members to attend. Please register them as additional students or reach out to Lindsay.Budin@agropur.com
Reservations must be made by Tuesday, April 25th at 5:00 PM OR until max registration is met.
Register Now