Announcing the 2016 President's Award
The Chair's Award Committee is pleased to announce that Brenda Knapp-Polzin is this year's recipient.  Brenda continues to provide both leadership and guidance to the Minnesota Section as well as to the National IFT.   Through the years Brenda has served in multiple roles including Chair and most notably heading up the Long Range Planning efforts.  Leadership training for the section has helped to develop and solidify our volunteer base.  Truly the success of our section is in our members.  We are fortunate to count Brenda as a member of our section!  Click here to see the list of past winners.
Click here to view the 2015 President's Award.
Sharon Herzog, Chair of the Chair's Award Committee and Brenda Knapp-Polzin, Chair's Award Winner

Brenda's Background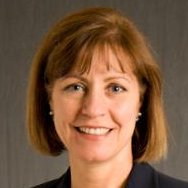 Brenda Knapp-Polzin is currently Director and Go to Market Technical Manager of Cargill Food Ingredients.   In this role she is responsible for developing and implementing technical support programs for Corporate Customers, in alignment with Cargill Food Ingredients strategy, to drive growth for Customers and Cargill.
Prior to Cargill, she held a variety of positions in the technical communities of General Mills and Pillsbury, where she was responsible for a wide portfolio of products.   Brenda hales from Nebraska and attended the University of Nebraska-Lincoln where she received her B.S. and M.S. in Food Science and Technology.  She is passionate about the blending of food science and culinary art.  She is a Certified Food Scientist and is active in IFT, having recently served on the IFT Board of Directors, 2011-2014.  Brenda has held numerous positions in Minnesota Section IFT, including Chair, Long Range Planning Chair, and Membership Chair.
Brenda lives in Minneapolis with her husband, David.  They have 4 adult children, and are devoted "parents" to two Standard Poodles.  Brenda loves to travel, explore cuisine, scuba dive and digging around in her garden.  For those fortunate enough to attend one of her dinner parties (she donates to the MN IFT Silent Auction), she is known as a creative host as well!