Macy Award Winner 2014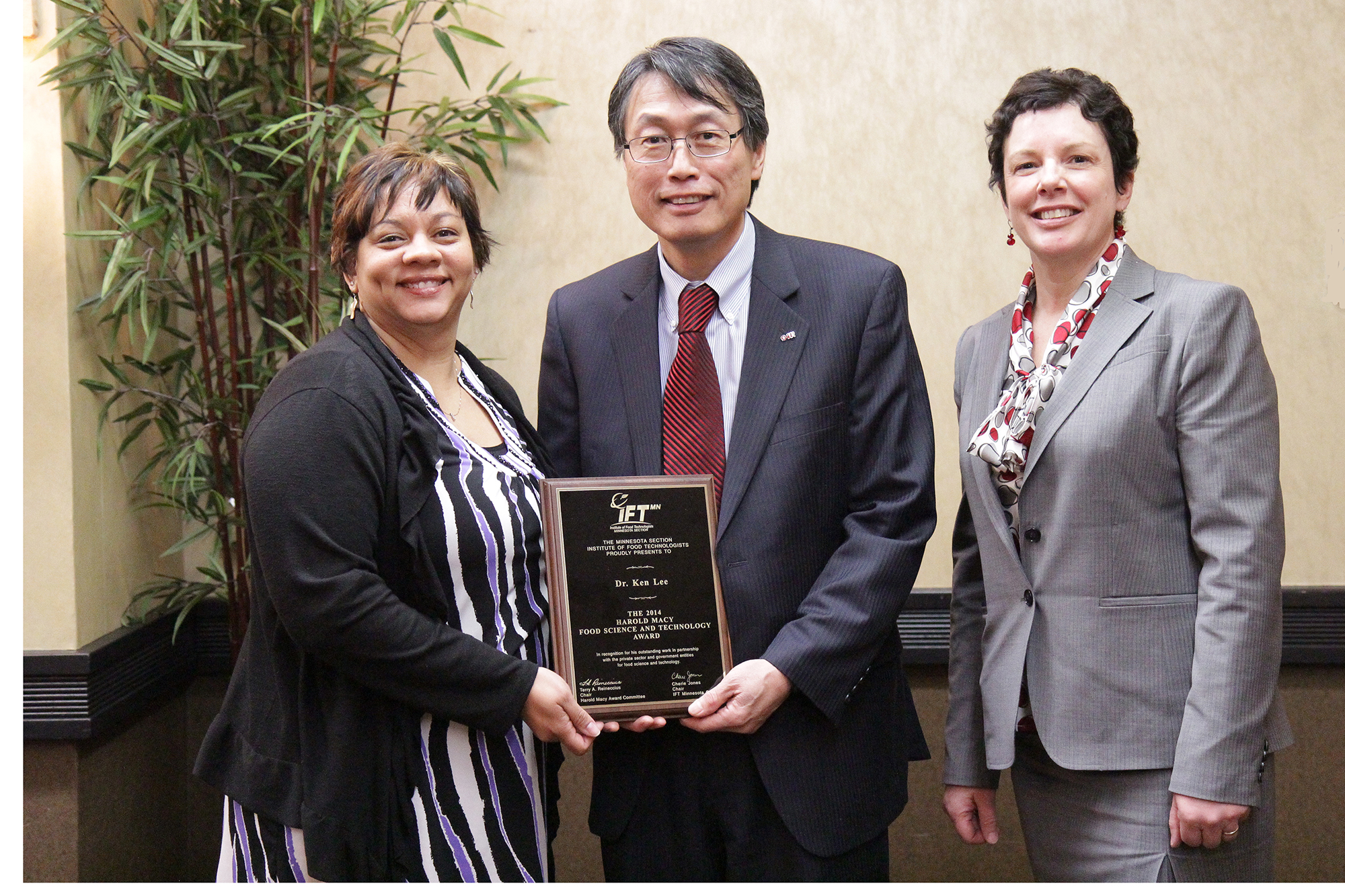 Cheri Jones (2014 Chair of the Minnesota Section), Dr. Ken Lee, The Ohio State University (2014 Macy Award Winner) and Terry Reineccius (Chair - 2014 Macy Award Committee)
For more information about the Macy Award click here.
The 2014 Macy Award Winner is Professor Ken Lee, Director and Principal Investigator-Ohio State University Food Innovation Center and Professor, Department of Food Science and Technology.  The award, which was established in 1981, given annually for outstanding example of food technology transfer or cooperation between scientists or technologists in any two of the following settings: academic, government, and private industry.  The purpose of the award is to advance the profession and practice of food technology and to honor Harold Macy, Dean Emeritus of the University of Minnesota and founding member of IFT.  Awardee is invited to address the Minnesota Section of IFT and receives a $2500 honorarium.
Professor Lee's contributions to food science and organizations have truly made a difference in the food science profession and make him an outstanding recipient of the Harold Macy Food Science and Technology Award. Within IFT, he was elected Fellow in 1997, won the Carl R. Fellers Achievement Award in 2007, chaired the IFT awards program, and served as an IFT food science communicator.  Dr. Lee was the recipient of the Malcolm Trout Distinguished Lecturer Award in 1990 and presided over the third Midwest Food Processors Conference. Ken Lee is an original member of the Food Update Foundation, a meeting of food industry research leaders who advanced the research needs of the industry, was elected Foundation President in 2000 and is a Past-President of Phi Tau Sigma, the Honorary Society for Food Science and Technology. Professor Lee chaired a Committee that planned and built the $4 million addition to Babcock Hall at University of Wisconsin-Madison, and helped plan, build, and raise private support for the $18 million Parker Food Science Building at OSU. Professor Ken Lee is the Food Innovation Center Director at Ohio State. This center was competitively funded in 2010 to advance the human condition by way of food. Ohio State is the only university to inspire all 14 colleges and more than 350 faculty members with direct interest in food improvement.  Lee works with renowned faculty and co-directors Steve Schwartz, Michael Leiblein and Steve Clinton who help inspire global impact with food discovery. Lee also serves on the Steering Committee to set the agenda for the University Senate, is a co-investigator on the $4.7M Targeted Investment in Excellence for Public Health Preparedness, and serves the faculty advisory board to the Food Discovery theme of Ohio State.These achievements are truly consistent with the name of Harold Macy.